Why consider a cleaning franchise?
If you've ever dreamt of starting your own business and becoming your own boss, but you've been deterred by the costs and risk involved in building a company from scratch, then franchising could be right for you.
For the uninitiated, franchising is where you (the franchisee) pay a licence to open and operate a branch on behalf of an established company (the franchisor). This fee, along with other set-up costs allows you to sell their product or service; use their logo, brand name and proven business model; and take advantage of their brand recognition and marketing reach. You also receive ongoing training and support from your franchisor and fellow franchisees.
Franchising has been a popular method of expansion for decades. Brands like McDonald's, Subway and KFC have enjoyed massive global growth and success by adopting a franchising model.
Franchising success isn't just limited to the fast food industry, though. Cleaning franchises have become increasingly popular in recent years as the demand for cleaning services, both domestic and commercial, has accelerated. Starting a cleaning franchise can be a highly profitable venture, not to mention an enjoyable and rewarding career choice.
Here's why cleaning franchises are such a great investment.
The cleaning industry is strong and robust
Starting a cleaning franchise means you'll be joining a thriving industry. According to a recent report from the British Cleaning Council (BCC), the cleaning sector contributes more than £24 billion to the UK economy while employing over 700,000 people. The domestic cleaning industry alone is valued at £7 billion.
Why is the cleaning sector in such a strong position, you ask? A big reason is because cleaning services (particularly domestic cleaning services) are no longer seen as a luxury expense for the upper classes, but a growing necessity of modern life. With people working longer hours and leading busier lives, they either don't have the time, or they'd rather spend their precious time away from work enjoying life with their loved ones, doing leisure activities or resting and recharging, not breaking a sweat doing the housework.
The cleaning industry has proven to be robust, too. While the UK has experienced a number of economic downturns and periods of uncertainty over the last decade, more recently so during the pandemic, the sector has weathered these storms and enjoyed continued growth. Since 2010, industry turnover has increased by 21%, compared to just 17% for the rest of the economy.
The cleaning sector is forecast for future growth
The cleaning industry is only expected to grow. According to a recent study from MTW Research, the cleaning sector is expected to increase by £450m between 2018 and 2023. Meanwhile, employment in the industry is expected to grow by 9.5% between 2014 and 2024, compared to just 5.5% for the rest of the UK economy.
These figures come on the heels of consecutive years of strong and steady growth within the sector. According to a study from Esure, the demand for house cleaners grew by over 25% between 2012 and 2017, while research by Helpling.com found that four in 10 25-34 year olds either have a cleaner or are looking for one, up from a third two years ago.
Franchising offers a higher chance of success
Thanks to all the benefits that it offers, Zerodrytime's proven business model, ongoing training and support, less risk, our franchise model carries higher rates of success compared to start-ups. According to a recent survey by the British Franchise Association (BFA) and NatWest, 93% of franchises are profitable. Additionally, more than two-thirds of franchises that have been operating for five years or longer report being either "substantially profitable."
Failure rates for franchises remain very low, with less than 1% of per year closing down due to commercial reasons. Comparatively, data shows that approximately 20% of new businesses fail during the first two years of being open, 45% during the first five years, and 65% during the first 10. Only 25% of new businesses make it past the 15-year mark.
Franchising offers a higher return on investment (ROI)
A cleaning franchise can be a highly profitable investment, especially considering the relatively low start-up costs involved (see below). Obviously, it's hard to pin an exact figure on how much your cleaning franchise could make, but the aforementioned survey from the BFA and NatWest found that 60% of franchised units turn over more than £250,000 per annum.
A cleaning franchise involves low set-up costs
A Zerodrytime cleaning business is a low-cost franchise opportunity compared to other franchises, in terms of both the initial investment and ongoing costs. The cost to start a Zerodrytime cleaning franchise is £24,950 excluding VAT. In comparison, the majority of McDonald's franchisees must put down between £350,000 and £1.85 million, while opening a Clarks franchise requires a minimum personal investment of £150,000.
If you need help in raising the funds to start a Zerodrytime cleaning franchise, many high-street banks have dedicated franchising units that specialise in lending to franchisees. Being part of a strong franchise network makes it even easier to raise the funds that you need.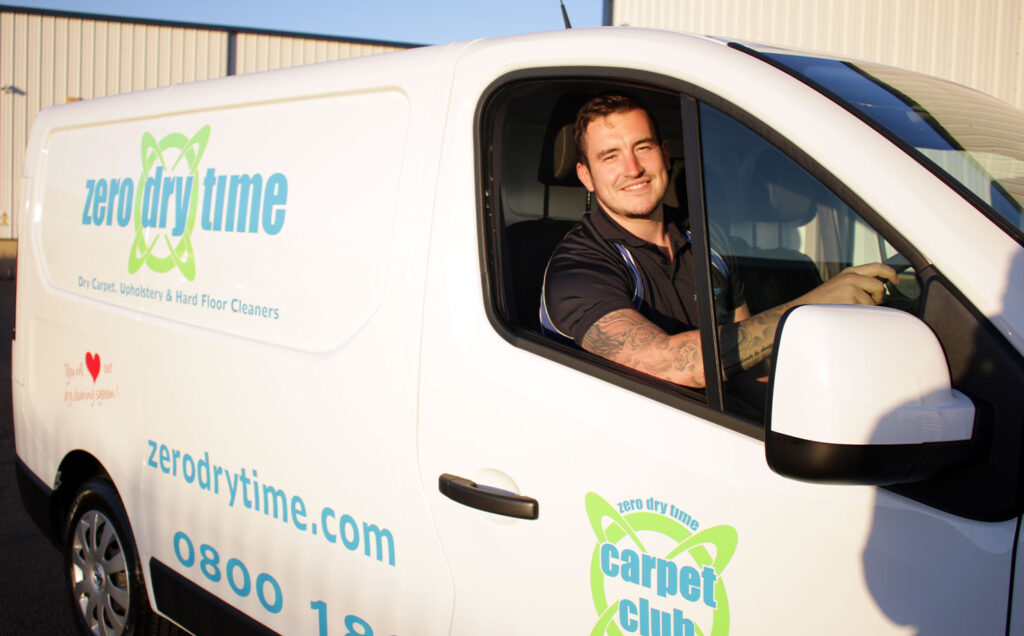 A cleaning franchise is a sale-able asset
Franchises are a sale-able asset, offering even greater value to your investment. Once you've grown your own profitable Zerodrytime cleaning business, you have the option to sell it on and cash in on your investment, potentially achieving long-term financial security for you and your family. (You may have to wait a certain number of years before selling, depending on the terms of your franchise agreement.)
If you would like to learn more about starting your own cleaning business franchise, please let us know. Simply complete our contact form, drop us an email, or call us direct on 0191 691 4700 and see if your local area is available.